There are football playbooks, business playbooks, and even theater playbooks to ensure success. So, it's a no-brainer that a sales playbook is needed to help a rep master the sales process and close deals more efficiently. These handy guides are terrific tools for empowering your sales team to consistently bring your sales strategies to life out in the field.
In this post, we're looking at what a sales playbook is, why you need it, and how to craft and deploy one your reps will actually use.
What is a Sales Playbook?
Sales playbooks outline how reps should execute a company's sales strategy in a predictable and replicable way through every stage of the buyer's journey. While many companies use it primarily to onboard new sales reps, there are numerous advantages to creating a "living" playbook your entire sales team can reference.
All sales reps are equally empowered to implement your sales strategy during customer interactions.
You create a hive mentality where team members feel motivated to share more effective tactics with fellow reps.
Generating sales scripts, messages, and other selling strategies give your team more time to do what they do best, selling, because they don't need to generate their own sales strategy materials.
When everyone on the sales team uses the same sales technology, the sales process is clear, concise, and easy to follow, preventing time-consuming missteps.
A standardized sales playbook also helps your team eliminate poor leads so they can spend more time on qualified ones, focusing on what ultimately makes or breaks any sale: solving a customer's pain points.
Why Reps Often Ignore Sales Playbooks
Every year companies pour millions of dollars into researching and crafting sales playbooks filled with (mostly) great content. They hold well-attended launch webinars and feel confident they're on the path to breaking prior sales records.
Fast forward six months, and they're asking themselves why their sales reps aren't referencing the playbook and don't seem interested in getting updates. Here's the truth. Good sales reps must see value in using something, or they're not going to invest in it. In other words, if they see your sales playbook as just another boring or superficial manual, they'll give it a pass.
Modern sales playbooks must reflect specific situations and deliver content in context. Here's how to do just that.
Sales Playbook Examples: What to Include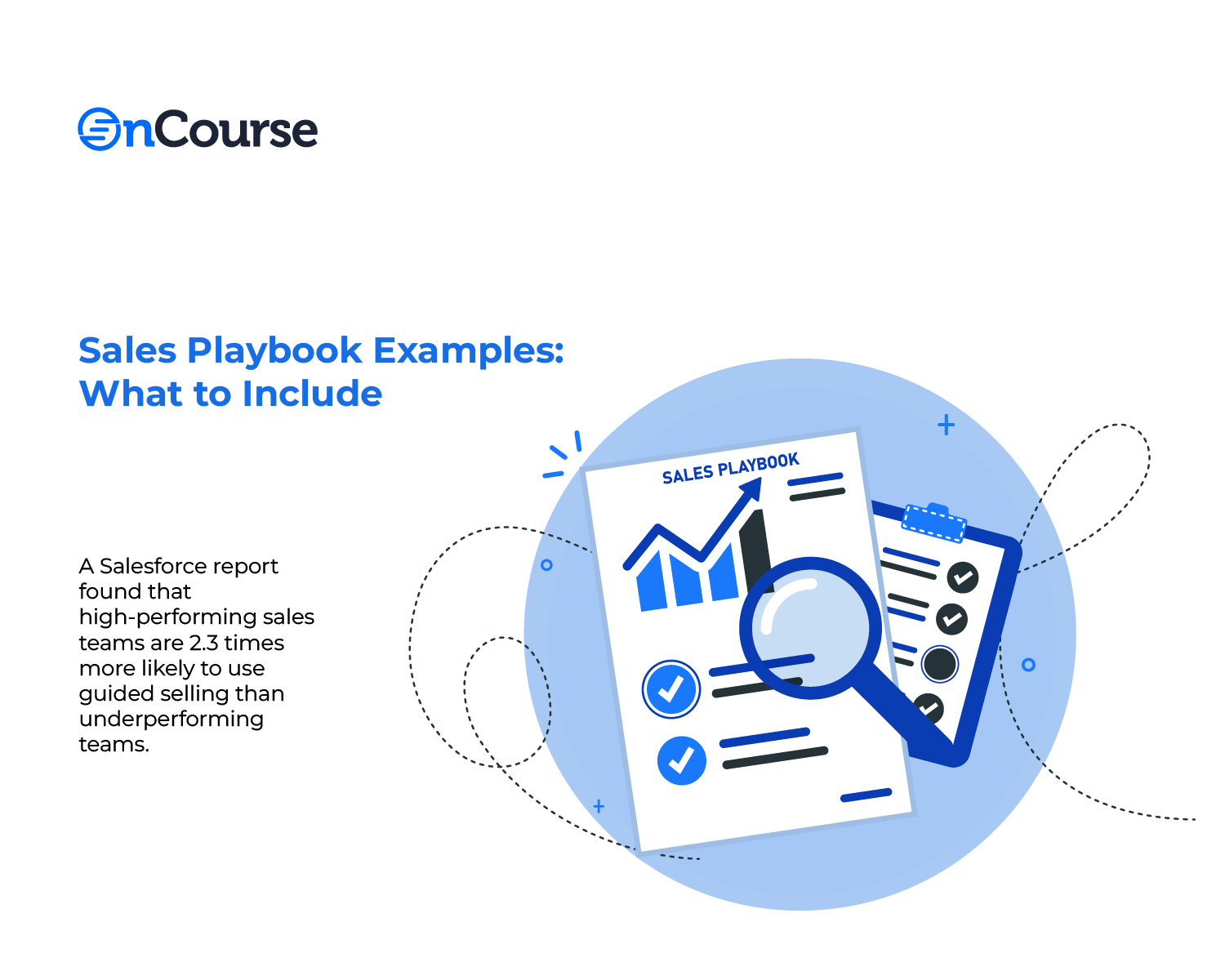 A Salesforce report found that high-performing sales teams are 2.3 times more likely to use guided selling than underperforming teams. Guided selling processes like sales playbooks accelerate the sales process, enabling sales reps to perform more efficiently—and it works regardless of what product or service is being sold or who the buyer is.
These sales playbook examples contain information essential to the success of your sales team.
Overview of the organization's sales goals, including a brief description of the company's sales philosophy and mission, as well as an organizational chart with names and job titles, rules of the office, and onboarding schedule.
Breakdown of sales rep responsibilities that explains how tasks are divided between sales team roles, ensuring everyone knows what's expected of them.
Buyer personas, so sales reps have a deep understanding of the company's ideal customer, including how they go about the buying process. It should include detailed information on makes potential buyers qualified leads, including pain points, spending budget, size of company, etc.
Product offerings. Sales reps must be thoroughly knowledgeable about what they're selling. Along with product features, they should know pricing information, each product or service's unique value proposition, and similar competitor offerings.\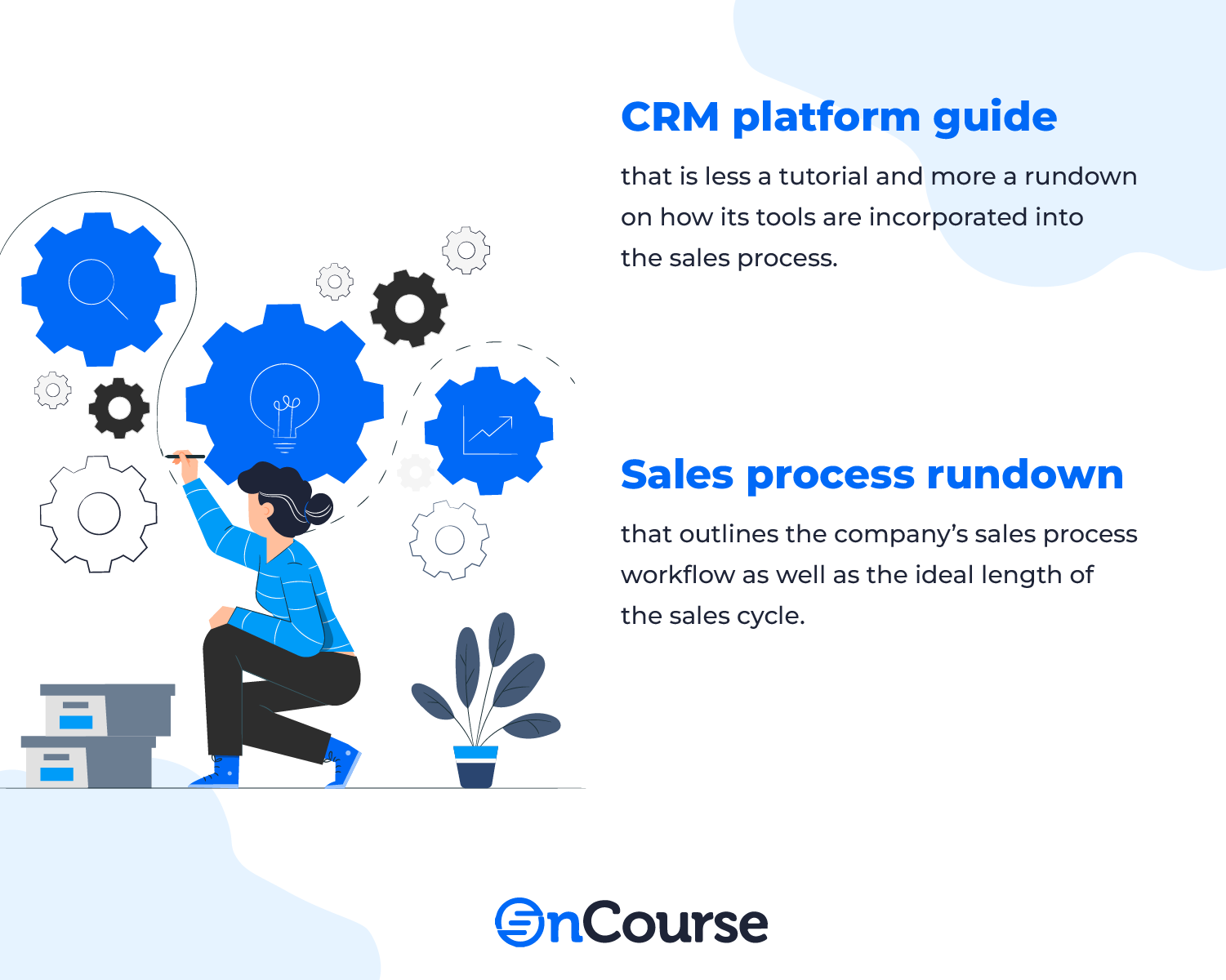 Sales process rundown that outlines the company's sales process workflow as well as the ideal length of the sales cycle.
CRM platform guide that is less a tutorial and more a rundown on how its tools are incorporated into the sales process.
Compensation guidelines, including how sales reps are paid and how incentives and commissions work.
Sales resource list, including marketing materials, customer testimonials, and case studies. Use sales "plays" to walk reps through the actions and best practices proven to move deals forward.
Metrics overview describing which key performance indicators (KPIs) and other metrics are critical to hitting sales goals.
Streamline the Sales Cycle with On-Course
A sales playbook is an essential tool for everyone involved in your company's sales process. The best ones are concise, easy to use, and provide step-by-step guidance on closing more—and more lucrative—deals.
On-Course in a multi-tiered CRM that helps you build the ultimate sales playbook by defining your sales processes and giving your sales team what they need to take on new challenges and close deals successfully. Sign up today to get started.