Want to scale your sales team quickly? The road to success is lined with data.
Sales teams with high-quality account, contact, and lead data are better equipped to make crucial decisions, chart course corrections, and direct focus.
Sales data includes everything from revenue by lead source to number of deals and cost of sales. If you're collecting data on customer interactions—as we like to believe you are—you can use it to learn an incredible amount about prospects and customers.
Why You Need a Data-Driven Sales Team
Research consistently shows that data-driven companies dramatically outperform their competitors and are:
23 times more likely to acquire new customers
6 times as likely to retain them
Nearly 20 times more likely to be profitable
So, what's the secret of turning data into more customers, sales, and revenue? The answer lies in tracking the right KPIs and metrics and understanding the difference between the two.
Sales KPIs vs. Sales Metrics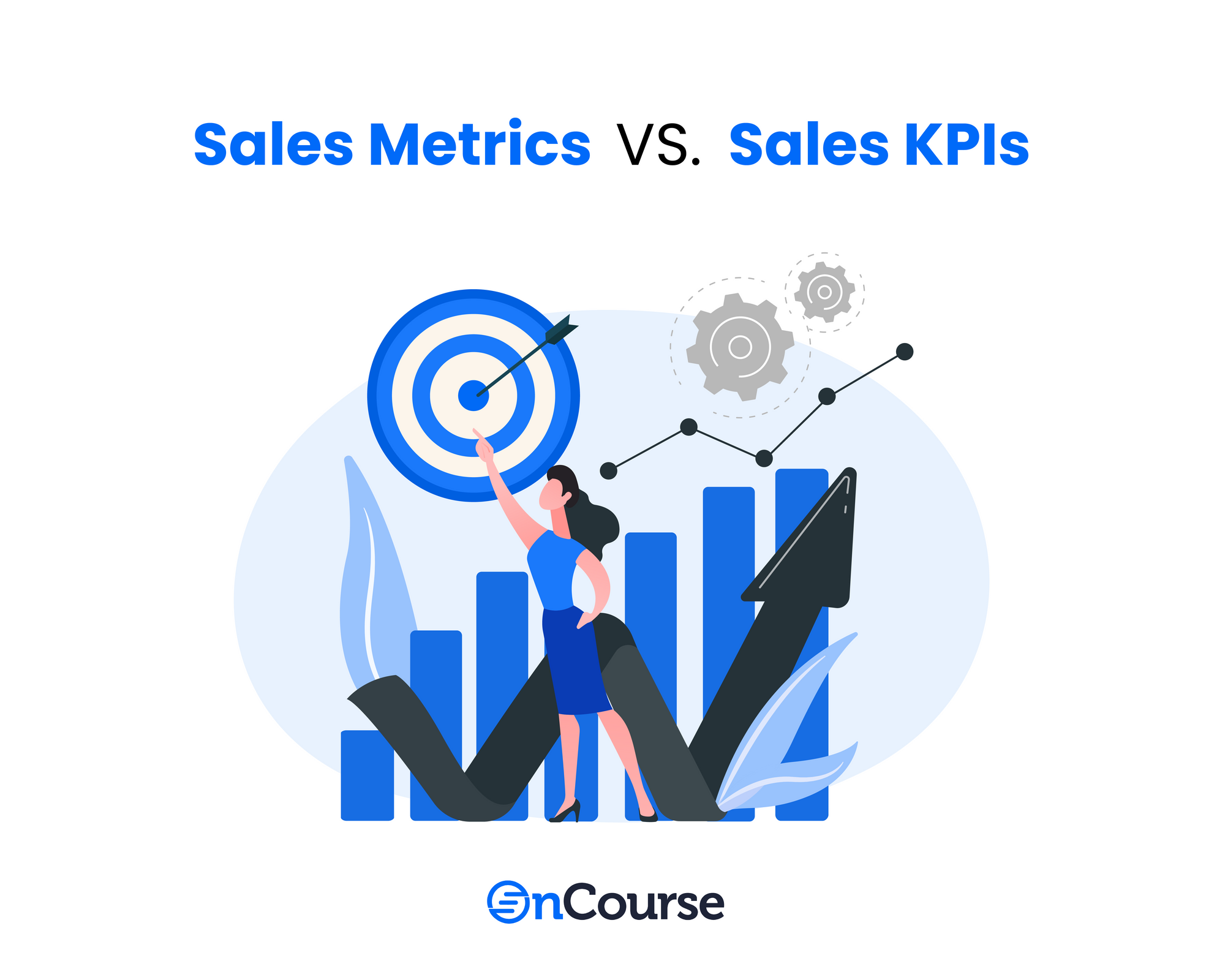 KPIs and metrics are related, but they're not the same. For while all KPIs are metrics, not all metrics are KPIs.
KPIs or key performance indicators are the metrics by which you measure business-critical initiatives, goals, and objectives. Put another way, they're measurable benchmarks against defined goals. For instance, if your goal is to increase sales by 20% over the next year, KPIs you'll want to look at include new customer acquisition, upselling success rate, and customer churn.
Metrics measure overall business health. They're loosely tied to targeted objectives but aren't always a good indication you're on track to meet goals. For example, tracking website visitors is a metric, but unless you tie it to a specific key business objective, it forever remains "just a metric," not a KPI.
Successful data-driven enterprises use both metrics and KPIs to improve business outcomes and enhance their sales strategies.
Sales KPIs Every Leader Should Measure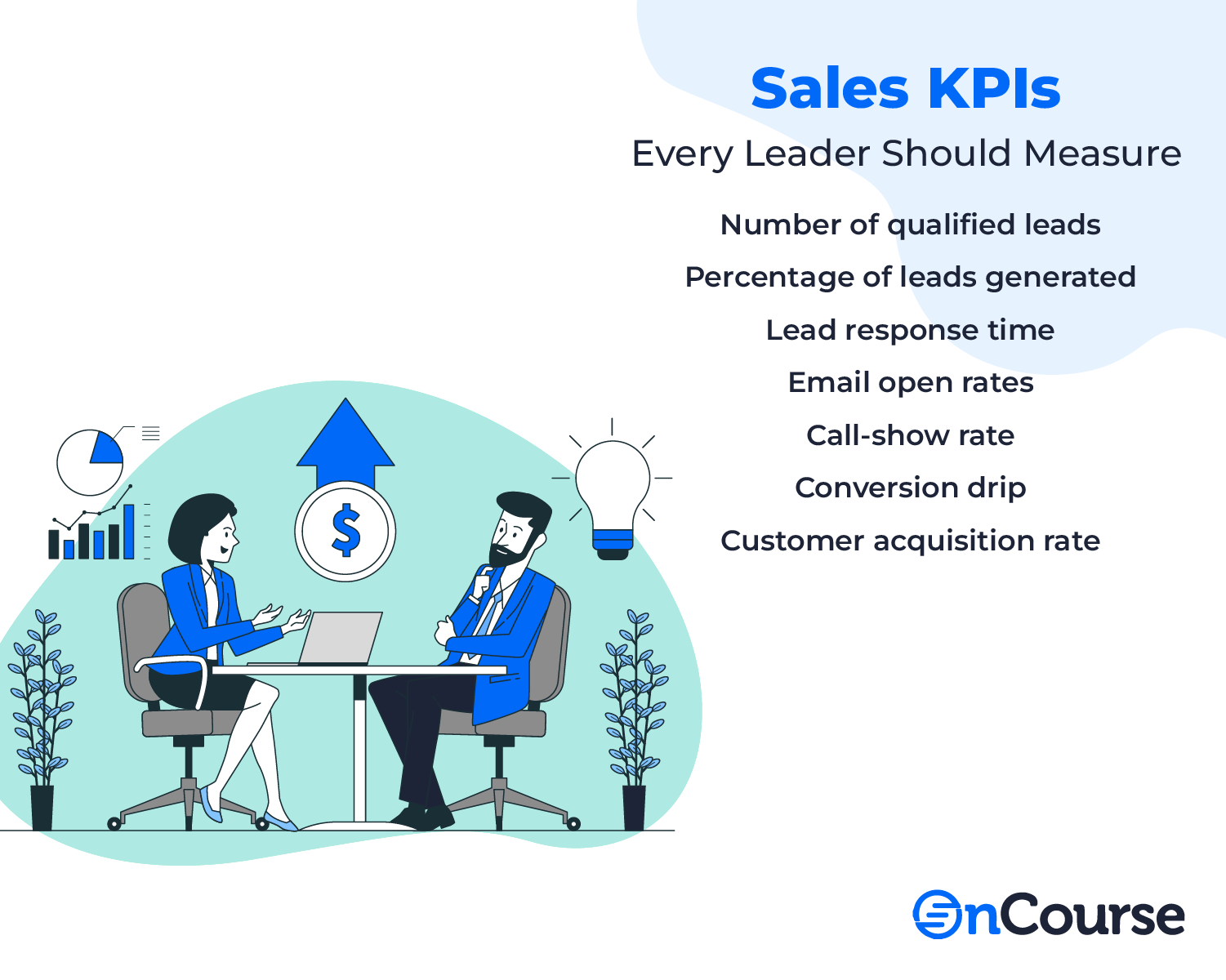 We mentioned earlier that you need to track the "right" sales KPIs. Which ones they are depends on your business. To avoid overwhelming your sales team with useless data, begin by measuring these seven KPIs first.
Number of qualified leads. This is your most important sales KPI to track as it helps you understand whether a lead has real value or not.
Percentage of leads generated. This KPI lets you know if sales reps are reaching established quotas and can help you determine if quotas are set too high or low.
Lead response time. You get three valuable insights here: are reps following up with leads in a timely fashion? Do they follow up in a way that follows your established sales process? Is there any unnecessary friction you should eliminate from the lead routing process?
Email open rates. When you track sent sales emails, types of emails, and open rates, you get to see the level at which prospects are regularly engaging with your campaigns.
Call-show rate. How often are booked sales presentations showing up for the call? If the show rate is below 50%, there's an issue that needs solving, be it the sales approach or customer hesitation.
Conversion drip. You should understandably be pleased if your reps are closing 30% of their calls. But where did the other 70% go? Though they're certainly all not winnable, it's likely at least ten to 15% of them are.
Customer acquisition rate. This is a terrific way to determine at which point sales reps should move on. It also helps you compare different outreach methods like cold calling, emailing, and face-to-face interactions.
Moving forward, you can add other KPIs like pipeline velocity, deals by acquisition channel, and monthly sales growth.
Sales and CRM Data
Many people think of CRM systems only as a way to improve customer service or efficiency, but they're missing out on a big part of the full value of CRM. Whether you have a sales team of five or a dozen, customer relationship management software makes it easier for your sales team to keep connected with the best leads and existing customers.
A purpose-built CRM helps you dramatically increase sales results and turn prospects into long-term profitable customers. OnCourse is a multi-tiered support system that offers numerous features for optimizing the sales process, including:
An intuitive, easy-to-use interface
Email and activity tracking
Email sequences and templates
Built-in calling
Game-changing SMS
It offers a simple way to manage all things sales-related in one place, using powerful automation to accelerate your sales efforts and dramatically increase team productivity while giving you access to all the sales data you need to boost revenue. Bypass the sales team, come see how easy it is to sign up yourself!