Creating catchy email subject lines for sales can be loads of fun, but if you want to increase your customer base and profits, they also need to get clicks. And in a world where more than 125 billion business emails are sent and received each day, that's not as easy as it sounds.
Everyone knows cluttered email inboxes are nearly impossible to stay on top of. Competition is stiff, and when it comes to getting someone to open your email, the odds are often against you. To save time, most people scroll down their inboxes to spot emails that look important. So, how do you ensure your emails stand out from the hundreds of others your prospects are receiving? It starts with a compelling subject line.
How Important Are Email Subject Lines?
We're glad you asked, as the subject line is potentially the most important few words in the entire email! It's your one chance to make a great first impression, get your foot in the door, and engage the lucky recipient.
It's estimated that 64% of email recipients decide to open an email based on the subject line. If it doesn't strike their fancy, they're likely to delete it immediately. They're also inclined to delete emails where the subject line uses all caps, overuses exclamation points, or any other spammy tactic.
A good email subject line has but one purpose: to get someone to think or say, "tell me more."
Try These Catchy Email Subject Lines for Sales
Well-designed and coordinated email campaigns can quickly build momentum for your sales initiatives. When someone receives your email, they'll typically spend a few seconds deciding whether to open it. This is where a catchy subject line comes into play.
These catchy email subject line examples should inspire you to create campaigns that people notice and emails they click on.
Let's start with some sales email subject lines that, at this point, have lost all meaning or power to engage:
How can we help you?
Just checking in.
Can we have 5 seconds of your time?
This is our last attempt at contacting you.
Forget the tricks, we have a treat for you!
These email subject lines, and many more like them, fail for the most part because they don't make the value of your email body obvious. Numbers 4 and 5 are particularly egregious. We all know that when someone says, "this is our last email," that we'll get another one just like it next week. And while everyone appreciates a touch of humor, far too many subject line writers sacrifice clarity for cleverness, much of which falls flat.
Your aim should be to compose subject lines that create a sense of urgency and exclusivity. Consider these examples, which apply to different types of sales email campaigns:
Urgency and scarcity
"Our limited-time promotion ends in 24 hours."
"We know you're busy, but we don't want you to miss out."
"Our latest webinar's airing free for the next 24 hours."
"Drop everything—we're having a sale!
Pain point
"Five fast fixes for sales funnel frustration."
"Are you struggling with XYZ? You're not alone."
"How happy are you with your current project management tool?"
"5 ways we can jumpstart your digital transformation."
Personalized appeals
"Hey, Stef! Our product has your name written all over it."
"Joe, we'd love your input/feedback."
"Hi, Julie, have you tried our XYZ?"
Cold outreach
"3 reasons you should be using our service, not theirs."
"We have the perfect opportunity for you and your marketing team."
"I've got an idea for solving your lead generation woes."
Whether you claim one of these as your own or use them as a jumping-off point, here's how to make sure your sales email subject lines are effective every time: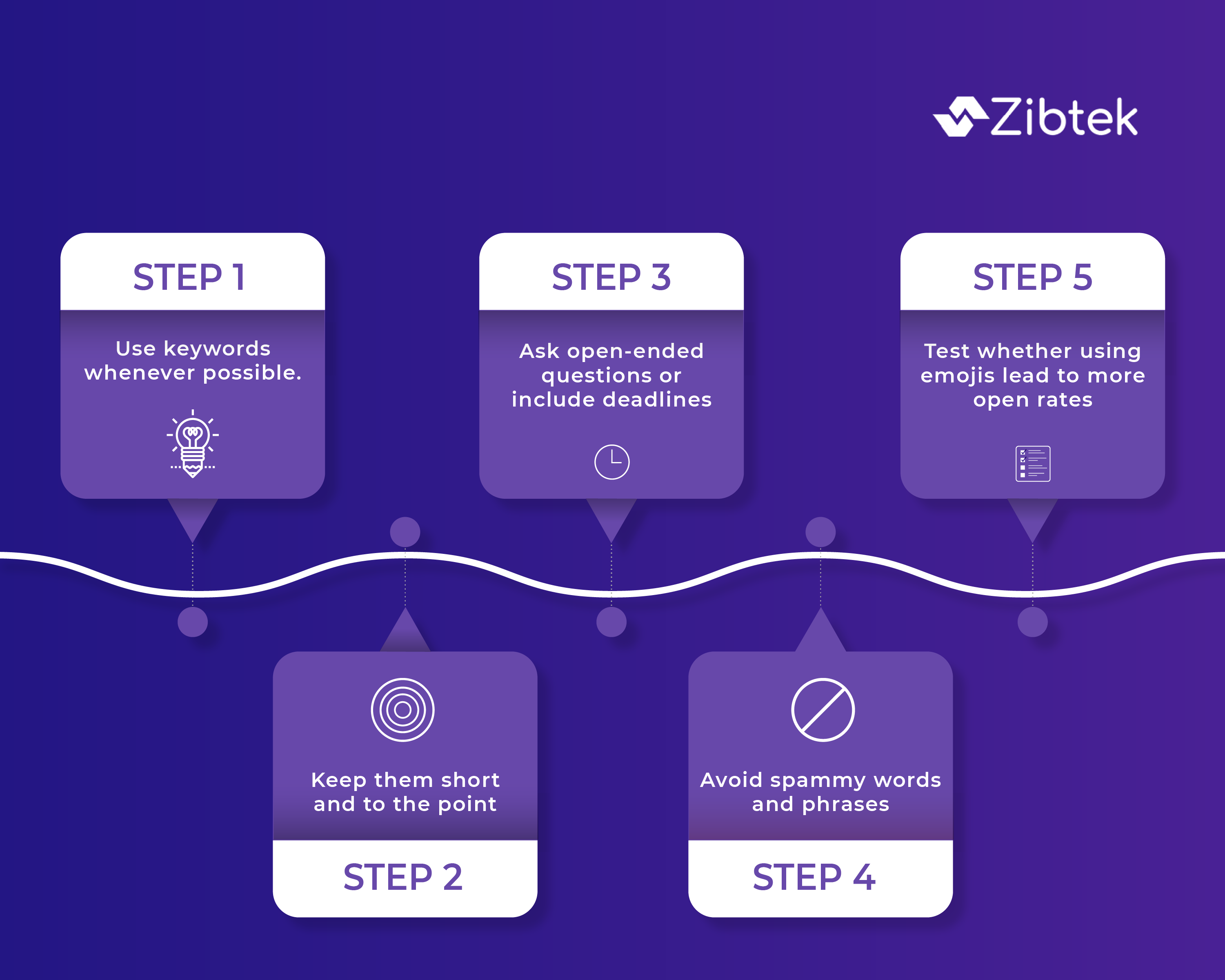 Use keywords whenever possible
Keep them short and to the point
Ask open-ended questions or include deadlines
Avoid spammy words and phrases
Test whether using emojis lead to more open rates
Finally, think about whether you would open an email with your intended subject line. If you wouldn't click on it yourself, don't assume prospective customers will either!
How a CRM Streamlines Email Marketing
Combining CRM and email marketing is the ideal way to create targeted campaigns that optimize relationships with existing and potential customers. OnCourse provides the data and information you need to scale communication and create personalized copy that puts the focus on the recipient, not a generic audience. The result is higher conversion rates, more engaged customers, and better profits.
Ready to learn more? Come see just how easy it is to get started.