Sales managers differ from other types of managers in that they only have one focus: increasing sales to existing and potential clients or customers to boost revenue. It takes specific sales manager skills to achieve exceptional results and help a business succeed, including the ability to inspire and motivate people to accomplish more.
What is a Sales Manager?
Sales managers are in charge of leading a company's sales team and are responsible for:
Helping their team meet sales quotas.
Forecasting sales.
Running sales reports.
Providing mentorship and training.
Recruiting, hiring, and onboarding new sales team members.
Some people assume that a sales team member with the highest sales record is the ideal candidate for a sales manager role. However, the role has much more to do with leadership abilities than personal sales numbers.
9 Sales Manager Skills to Grow On
As a sales manager, you need certain skills to help you perform your duties with greater efficiency and ease. Let's look at the top nine sales manager skills.
1. Hiring the right talent
Even if you inherit an existing sales team, there will come the day when you need to add or replace reps. Hiring people who are motivated and passionate about what you're selling should be a top priority as it can:
Bring in substantial revenue quickly.
Generate more revenue through better client relations.
Help boost your reputation.
Ensure your product or service becomes a leader in your sector.
2. Leadership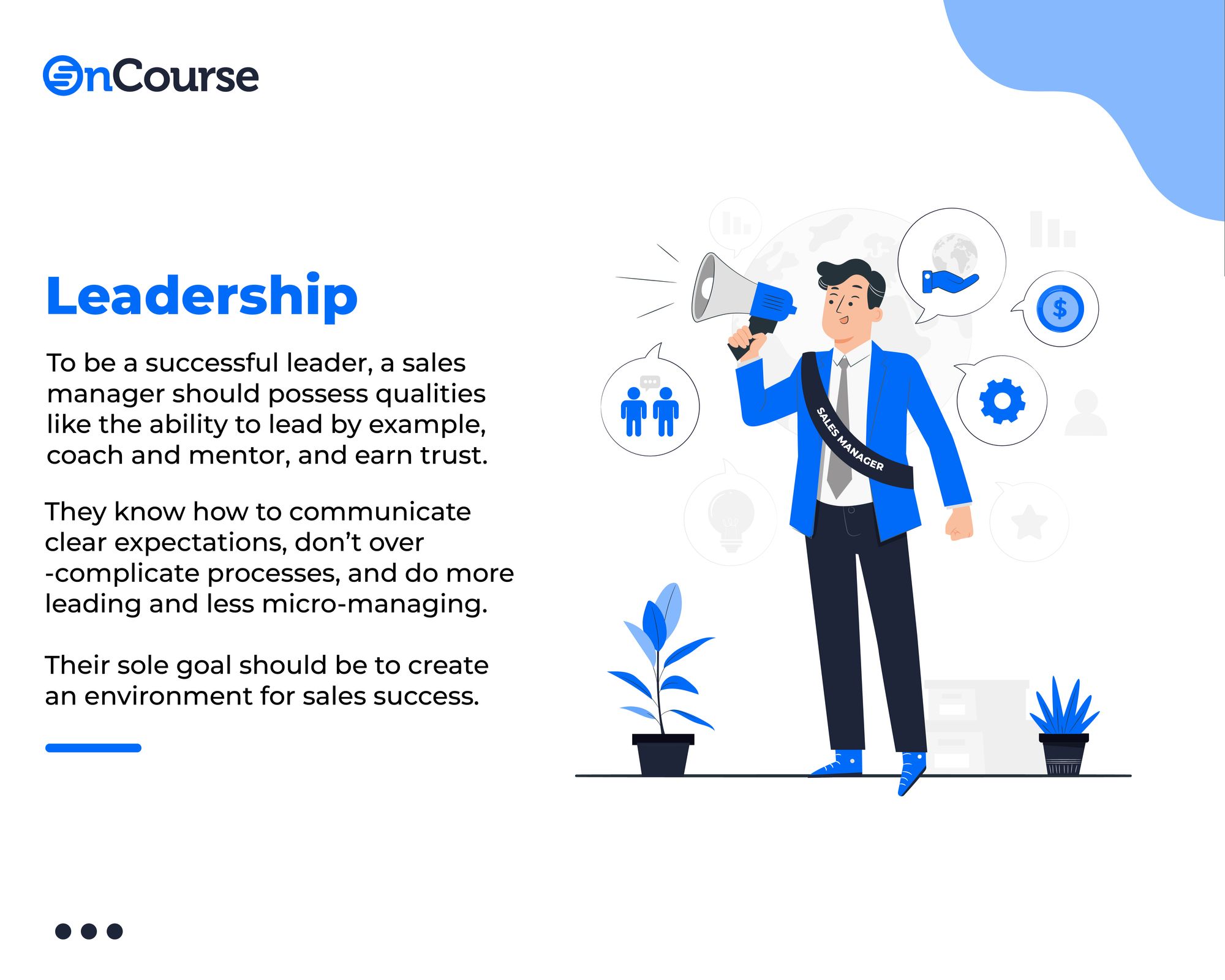 To be a successful leader, a sales manager should possess qualities like the ability to lead by example, coach and mentor, and earn trust. They know how to communicate clear expectations, don't overcomplicate processes, and do more leading and less micro-managing. Their sole goal should be to create an environment for sales success.
3. Developing sales plans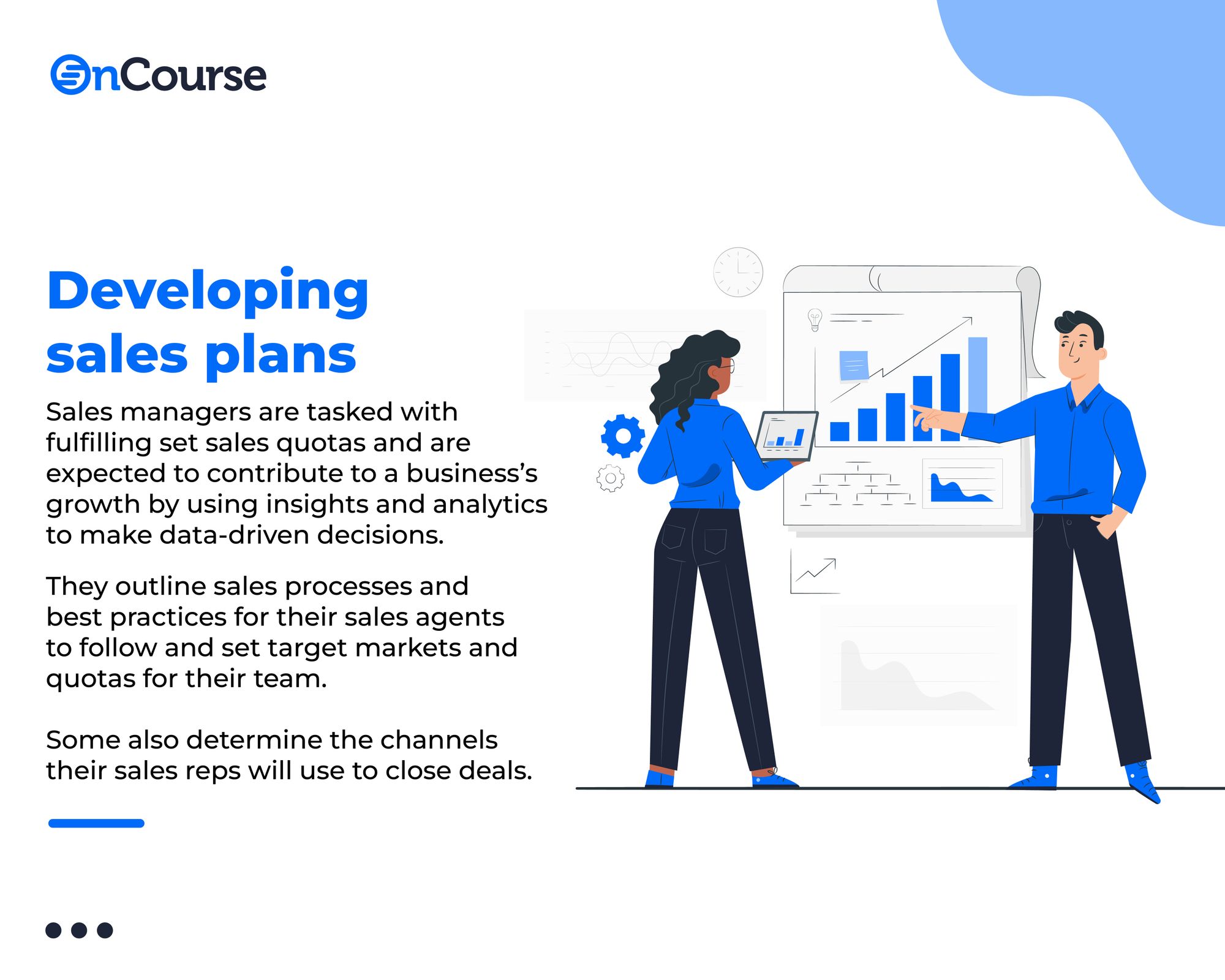 Sales managers are tasked with fulfilling set sales quotas and are expected to contribute to a business's growth by using insights and analytics to make data-driven decisions. They outline sales processes and best practices for their sales agents to follow and set target markets and quotas for their team. Some also determine the channels their sales reps will use to close deals.
4. Communication skills
The ability to communicate clearly and openly is a skill all managers need. Sales managers must not only use "sales speak" when communicating with their reps but must also understand each team member well enough to communicate in the way they need individually. It's a skill essential to ensuring individual sales reps understand the goals, visions, objectives, and strategies and are aware of the role they play in meeting them.
5. Organizational skills
Planning and organizing skills go hand-in-hand for sales managers who must decide which direction their sales team will take to ensure success. It's a well-known fact that poor organization can lead to missed opportunities and lower productivity. A good sales manager knows how to get and keep everything and everyone on track to meet sales goals.
6. Sales forecasting
Most sales leaders say there's always room for improvement when it comes to sales forecasting. Good sales forecasting skills sales managers must possess to succeed include:
Distinguishing between forecasting and pipeline management.
Leading their sales team to forecast based on facts, not assumptions.
Selecting an appropriate forecasting framework based on sales roles.
7. Delegation
Effective sales managers use their sales team's potential to achieve organizational goals. They know when and how to delegate responsibilities to enhance productivity and drive profits. They don't burden themselves with responsibilities they know individual sales reps are perfectly capable of performing. Most importantly, they understand each team member's strengths and weaknesses, which allows them to better delegate and support the team's overall success.
8. Social selling skills
It's estimated that less than half of salespeople use social media for prospecting, interacting with customers, or gathering data. That's unfortunate, because in a world where most of their customers and clients are spending considerable time online, they're missing out on the power of social to help them relate to and engage with buyers. Social selling lets you leverage your social network to find the right leads, build trusted relationships, and achieve your sales goals. It can also decrease cold calling and boost your lead generation and sales prospecting strategies.
9. Customer relationship management
A customer relationship management system (CRM) gives you insight into key factors like what the pipeline and sales rep performance looks like. It helps you manage a sales team's relationships and interactions with existing and prospective customers and continuously updates account information so you can manage contacts, sales, and agent productivity better.
On-Course in a multi-tiered CRM that helps you streamline the entire sales cycle while helping you build better customer relationships and meet sales quotas. Ready to learn more? Come see for yourself how easy it is to get started on improving your organization's sales team performance.