What are the top sales skills? The term "natural born salesman" has long been used to describe top sellers who consistently deliver for their organizations. But is there truly such a thing? Conventional wisdom argues successful salespeople are made, not born. Just like professional athletes or entertainers must practice and refine their natural talents, salespeople must develop skill sets that make the most of their individual personalities and abilities.
What Are the Top Sales Skills?
Sales skills have often been called the muscles that give sales Rep the strength and flexibility to succeed. They're developed through coaching, training, and experience and must be continually cultivated and refined throughout a sales career. Fortunately, successful sales skills can be learned and leveraged for turning leads into longtime, loyal customers.
Key Sales Skills Every Rep Should Have
Success in sales relies on both hard and soft skills. Hard sales skills include things like:
Active listening
Client engagement
Conflict management and resolution
Negotiation
Product knowledge
Sales presentations
Social selling
Understanding of sales software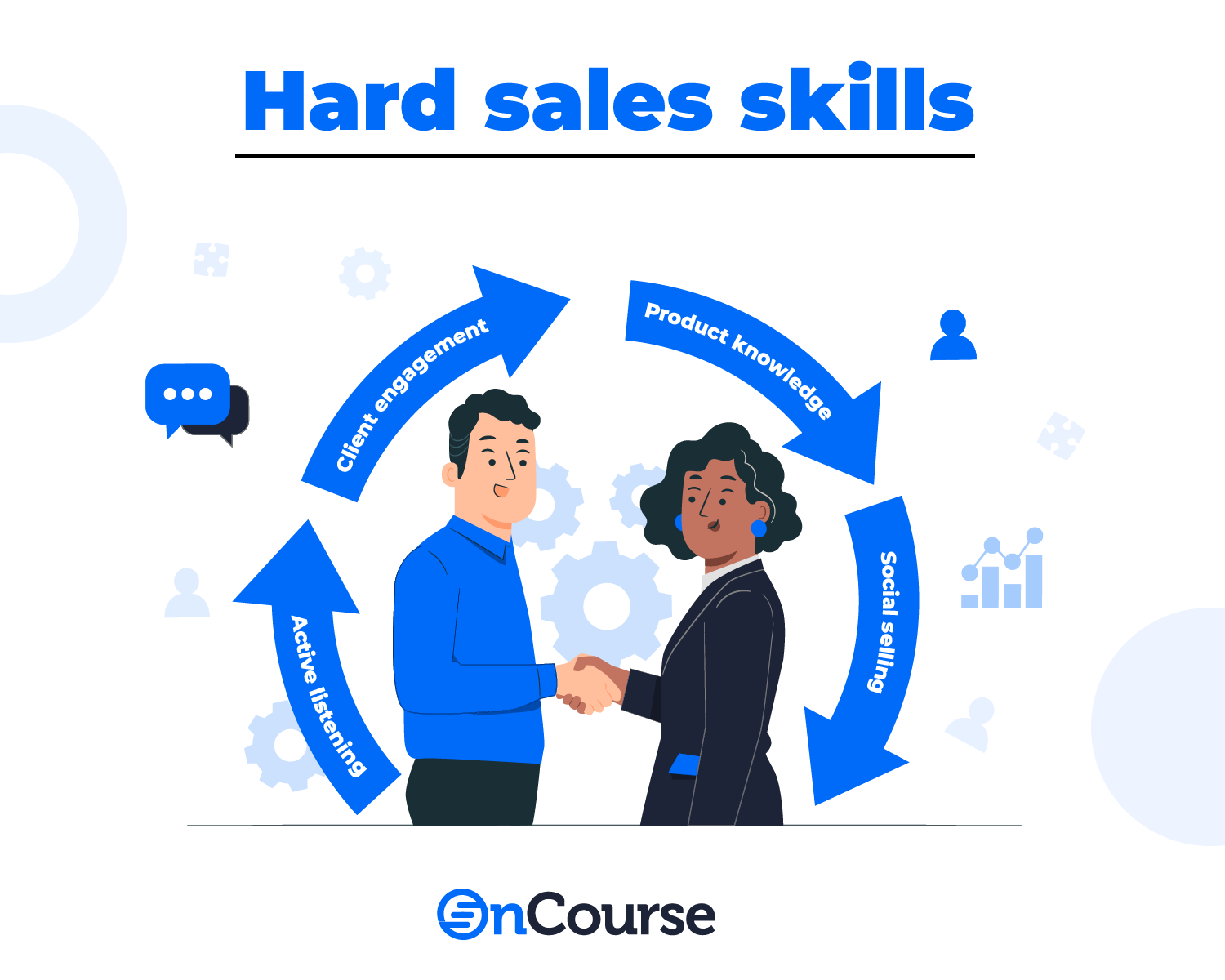 Unlike hard sales skills, which are relatively easy to learn, soft skills differ from person to person. Because modern selling is so people-centric, developing soft skills is critical to closing the deal. Soft skills tend to focus on "fuzzier" personal traits, including:
Coachability
Curiosity
Effective communication and problem-solving skills
Emotional intelligence
Empathy
Growth mindset
Humility
How to Develop Top Sales Skills
A sales readiness strategy includes activities like assessment, training, and coaching to develop more productive, agile, and prepared salespeople. Developing top sales skills equips you to close more and bigger deals, all while ensuring the time you spend with buyers or customers is time well-spent.
These tips can help you master your soft and hard sales skills so you're able to interact effectively with others and navigate the complex world of the sales journey.
Soft Sales Skills
Problem-solving is probably one of the most crucial sales skills you'll need to master. It helps you adjust to change and adopt new tools, technologies, and techniques. No matter how strong your other sales skills are, learning to quickly identify, evaluate, and solve problems is at the core of sales success. To hone your problem-solving abilities, look for new responsibilities and challenge yourself to take on unfamiliar tasks that offer growth opportunities.
Being a good communicator goes beyond sales scripts that address typical questions and objections. You need to establish genuine connections and build relationships with the people you're talking to. Curiosity, empathy, and humility can all improve your one-on-one communication skills. They help you understand your lead's mindset and find common ground to move them to the next stage of their buying journey.
Emotional intelligence helps you connect with buyers and get the sales results you're hoping for. It helps you avoid getting defensive when people challenge you on the product or service you're selling or if they argue over price. Long considered a strong indicator of success, emotional intelligence improves prospecting efforts, projects likeability, and builds trust.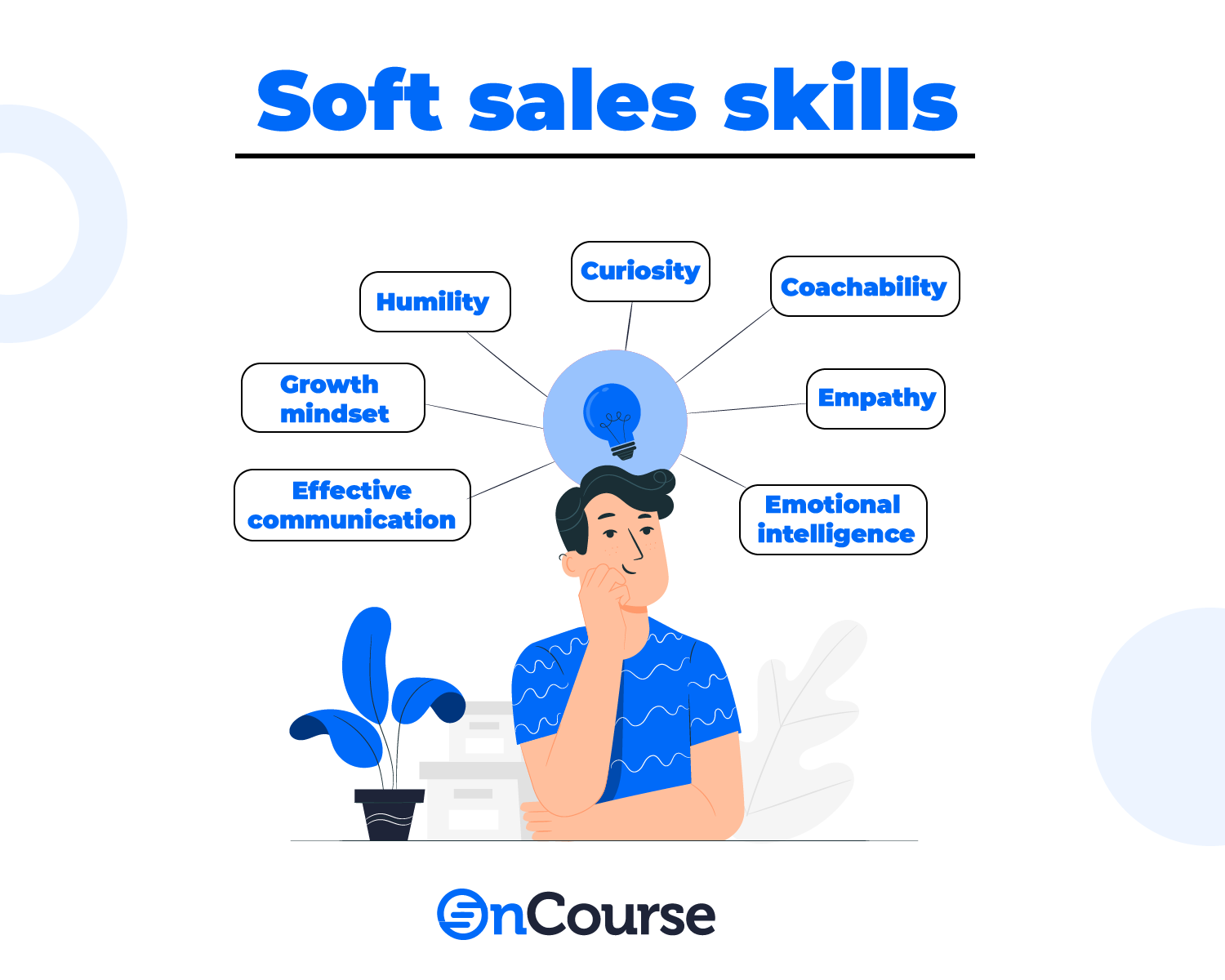 Hard Sales Skills
Salespeople who can wrap their pitch inside a compelling story have mastered one of the finest client engagement skills. Storytelling is so successful as a sales skill because people tend to remember the stories you tell. When you learn to frame your product or service's features and benefits within the context of a captivating tale, you retain your customer's attention and make their journey a much more enjoyable and memorable one. You can improve your storytelling skills through lots of practice, testing, and reworking. Before long, you'll have a cache of relatable stories that become an integral part of your personal sales toolbox.
Are you using new technologies as much as you could to improve your sales results? Most salespeople say the one thing they need more of is time. You can use time management tools to enhance sales and customer experiences. You can use them to measure sales productivity levels, improve sales operations, and reach sales targets more quickly.
CRM (customer relationship management) software streamlines the entire sales cycle, helps build better customer relationships, and improves customer retention rates. A multi-tiered support system like OnCourse lets you stay focused on the task at hand and eliminates time-consuming distractions that disrupt the sales process. It helps you manage all sales-related tasks like pipelines, onboarding, and marketing in one place while expediting sales efforts and increasing sales team productivity. If you'd like to learn more about how OnCourse can help increase sales, request a sales demo today.