A CRM system is the backbone of a successful, modern sales team, yet still many companies do not use CRM. Without a sophisticated CRM tool, companies are losing revenue by leaving deals on the table. This is because they do not know the importance of CRM and its potential to bring a major change in their business. For those businesses in such cases, the steps below offer guidance on how to stay organised with your CRM system.
How to stay organised with a CRM System:
1. Know your customer:
It is crucial to know your customer. For this, you need to research more about them, and based on your research, draft a description of  an ideal customer. Make sure you know their needs, wants and pain points. Once this is done, see what happens to the business, see if you are better able to target the right customers.
2. Delete the duplicate entries:
Assessing your contacts is an important step in streamlining your use of CRM. Check for duplicate entries and try to edit or delete them. This will minimize the risk to the business and ensure seamless communication and accurate customer segmentation and analysis.
3. Gathering appropriate information:
Most consumers are wary of sharing data with businesses or vendors. Gather your customers' information by preparing a report. Be slow to start with a question that might seem too detailed to the customer. First, start with simple questions like name, email, and then contact and their company details. This helps you more likely to get what you want when you collect data slowly without making individuals feel uneasy. Make sure that this is organized into suitable segments and columns in your CRM.

4. Provide necessary training:
Make your team well versed with the product you are using. When working with your employees, make sure your team understands the importance to have clean CRM and updated information as much as possible. Giving them training and having one-on-one tutorials help them to know the benefits of CRM and how it can help them succeed.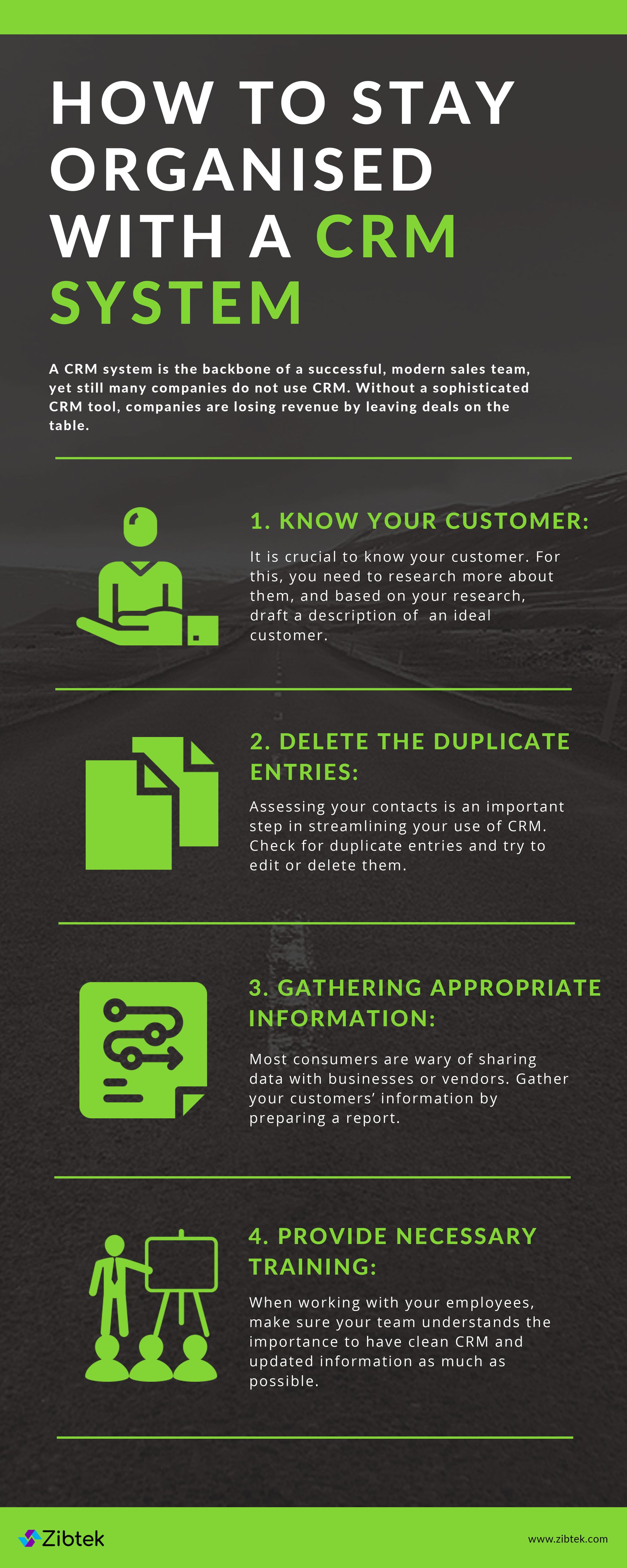 Conclusion:
CRM is a new way of thinking about the customer being a central part of the business, and all details are kept in one centralized database. This mainly focuses on customers' relationship with the company. It's important to have updated information and make sure to keep your CRM streamlined and  protected from hacks. In the digital age, your data is your company's most important asset. Make sure you have the tools to organize and protect it.