Inside Sales vs. Outside Sales. Over the past decades, businesses worldwide have used the outside sales model to sell their products and services. Nonetheless, companies are increasingly incorporating inside sales in their enterprises due to advancements in communication technology. According to a Havard Business Review survey, 46% of vice presidents of sales at leading companies reported a shift from an outside sales model to an inside sales model over the past two years.
As a sales lead, it's crucial to fully understand these two sales models to build an effective sales force. This article will delve deeper into everything you need to know about inside and outside sales, their differences, and how a user-friendly CRM can help you manage both models.
What is inside sales?
Like its name suggests, Inside sales is a sales model that focuses on selling services or products to prospect customers remotely. As an inside sales representative, you primarily conduct sales over the phone in your office. But, due to advancements in modern communication technology, you can use a wide array of modern communication tools that are readily available. The inside sales model is effectively used in Business to Business (B2B) and Software as a Service (SaaS) sales.
What is outside sales?
The outside sales model solely focuses on selling products and services to prospects through face-to-face meetings held outside the sales representative's office. These in-person meetings occur at a convenient location to your potential customers, such as in a restaurant or trade show. You can effectively use outside sales in Business to Business (B2B) sales, especially where your products or services have a premium price point.
The Contrast between Inside Sales and Outside Sales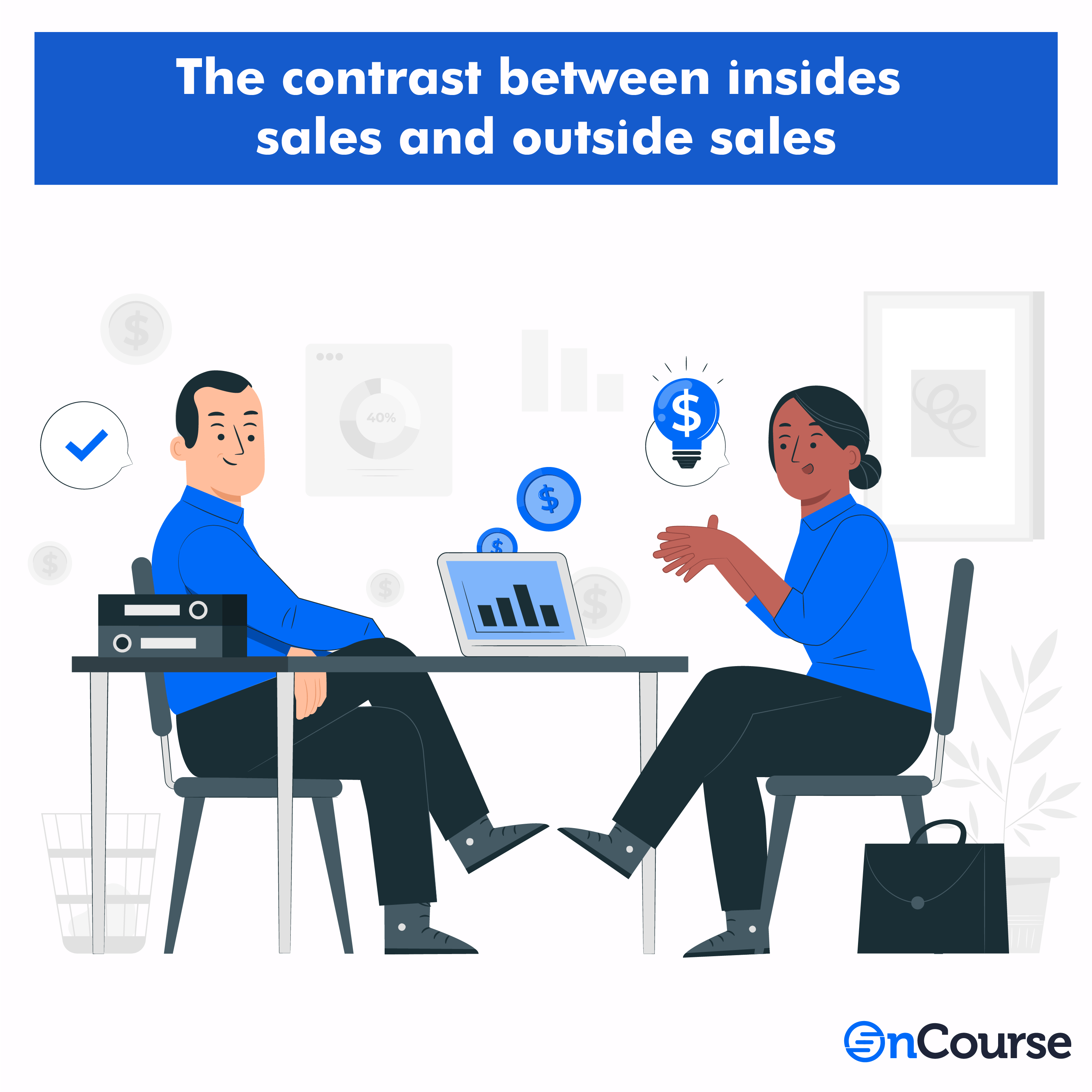 Although both inside and outside sales models share a similar end goal, they differ in certain aspects. These differences include:
Communication Tools
Inside sales involve contacting prospective clients remotely using modern communication tools such as emails, video calls, phone calls, etc. These communication tools can prove a hard nut to crack in managing them. That's why you must have a user-friendly CRM, like OnCourse CRM, to help you manage and track your emails, phone calls, video calls, and messages.
On the other hand, outside sales involve traveling to different destinations searching for potential clients and new business. Thus, the sales model solely depends on the traditional communication channels like traveling and face-to-face meetings.
The Prices of the Product or Service
Inside and outside sales models are crafted to sell products and services at different prices. Inside sales is only viable in businesses that sell less expensive and low-profit margin products or services. This is because the model has low operational costs and requires less persuasion than the outside sales.
The outside sales model, on its part, is time-consuming and involves high operational costs due to the traveling involved. Thus, the sales model is best suited for businesses that sell expensive products or services with high-profit margins. In addition, the deal sizes of the outside sales should involve large sums of money to make financial sense.
The Length of the Sales Cycle
As stated earlier, while using the inside sales model, you only need to make a call to a prospect and lay bare your case. Thus, the time required to persuade a potential client is considerably low compared to traveling and organizing a meeting with a potential client. That's why inside sales have a shorter length of the sales cycle.
On the other hand, outside sales involve traveling, meeting with the client, and constantly maintaining contact. That's why you need a considerable amount of time to persuade a prospective client to make a purchase. This explains why outside sales have a longer sale cycle length than inside sales.
Close Rates
Inside sales have a lower close rate, focusing on less expensive products and products with a low-profit margin. Thus, prospective buyers don't need much thought in deciding on whether to make a purchase or not. Your only focus should be on contacting a lead with a high volume.
Conversely, outside sales have a high customer conversion rate because it focuses on expensive and high-profit margin products and services. Thus, prospective clients take a lot of time in deciding whether to invest their hefty cash in your products or not. Therefore, it makes sense to spend as much time as possible with a prospect provided you close the deal.
The Bottom Line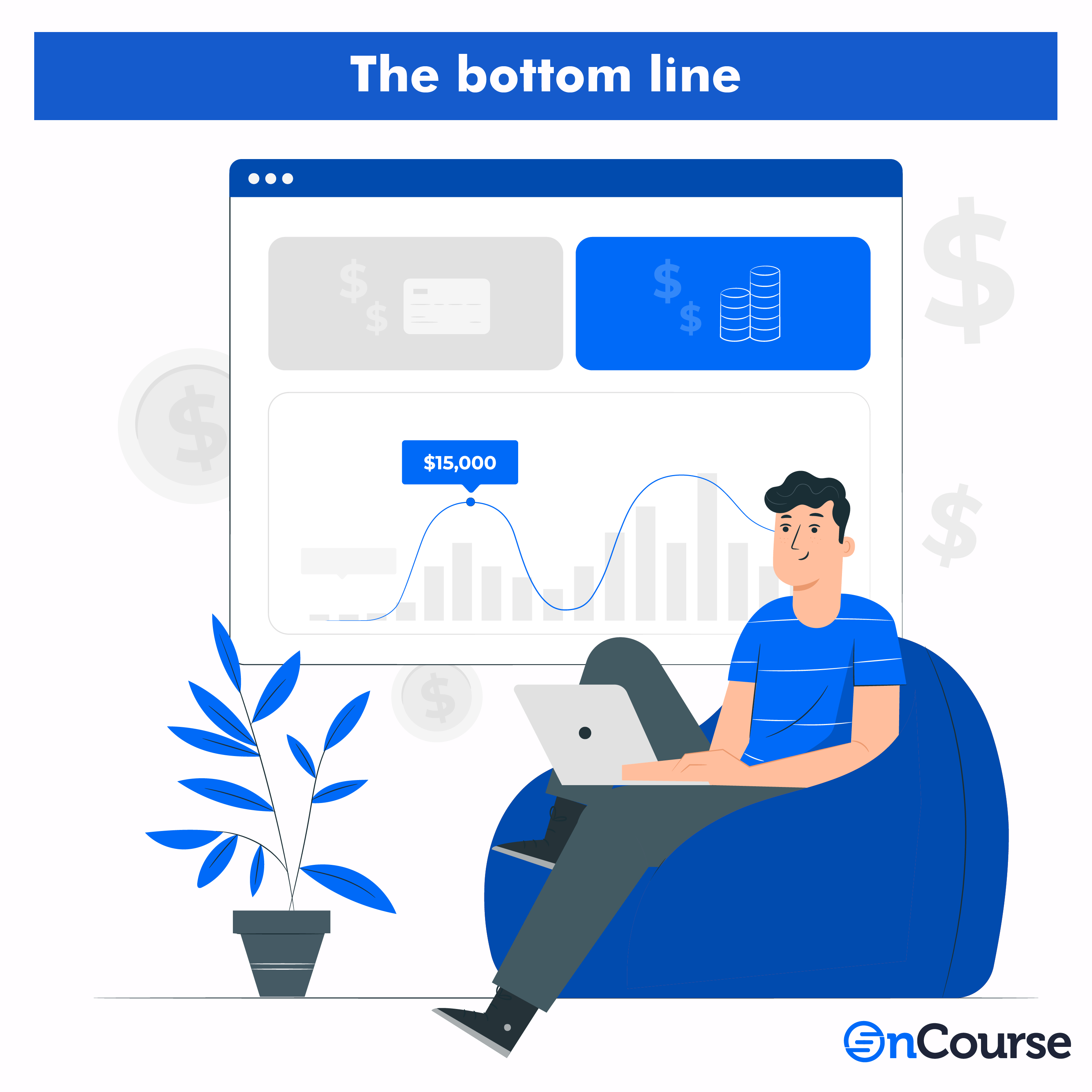 As you will have noticed by now, both inside and outside sales have strong and weak points. Incorporating a hybrid of both sales models in your sales strategy is ideal if you intend to make the best of both worlds. The inside sales is cost-effective and more scalable, but if your business deals with enterprise customers with a longer sales cycle, outside sales is an ideal choice.